Patricia Pastelero
Departamento de Tintometría.
The technical laboratory is one of the company's key departments, the home of Isaval R&D and Innovation department. For this reason, we want to let you know about the daily routine of one of our lab colleagues, Patricia Pastelero, in the paint-mixing department.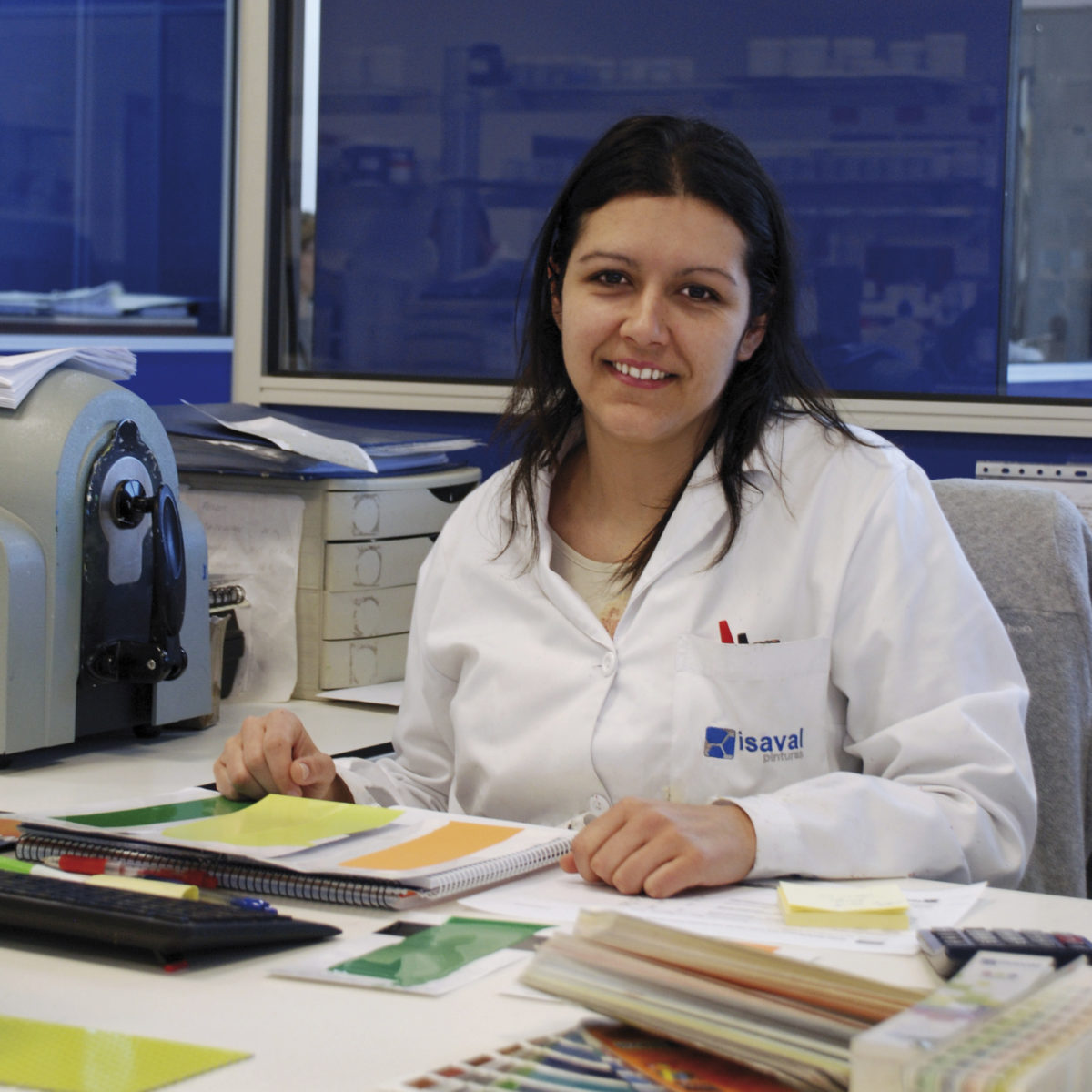 Could you please tell us about your work?
I am working in programming and checking the production of colours made in the Dromont machines, both water-based and solvent-based. I also collaborate with our customers formulating and checking the colours of our colour charts and other colour charts in the market.
I program the production of colours made in the Dromont machines and deal with paint-mixing issues with customers.
Have you always had the same functions?
No, I haven't. I joined Pinturas Isaval 13 years ago as a laboratory assistant in the quality control of finished products. Later on, I carried out R&D tasks, making on a small scale the products we market, analysing products and carrying out tests. I started work only in paint-mixing 7 years ago.
Have you noticed changes in the customers' requests and demands over this time?
At present, customers ask for clean and dark colours for indoor spaces and lively colours for outdoor spaces, which is possible thanks to new dyes for outdoor spaces used at Dromont. We also produce a wide range of colours in products for the industry.
Which customer segment needs more technical assistance?
Customers who have paint-mixing machines contact us more often. They need to produce colours by themselves and sometimes those colours are not in their database. They receive colour samples from their customers and need to match those colours.
¿Which is the most unusual colour you have formulated?
I am asked for unusual colours every day. I receive unusual samples, for example packets of cigarettes, manhole covers, and mainly paint samples delivered by the customers that have been kept for years. We have even matched a colour chart for beach bags.
Could you please tell us an anecdote?
Sincerely speaking, many things have happened to me. I remember that it was summer and a customer urgently needed the colours of his town flag. We did not know the flag colours and then, the customer came to Isaval facilities with the flag for us to match the colours. I have also been given empty paint pots that were almost impossible to match.